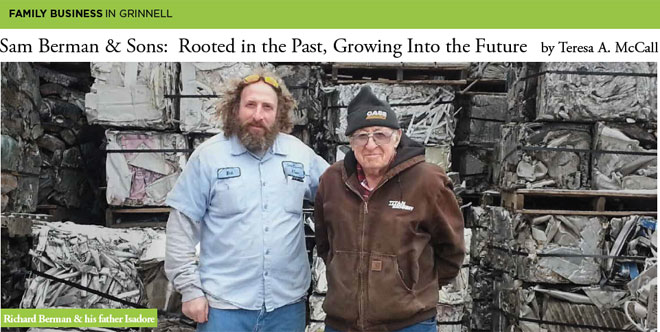 One of the oldest family-owned businesses in Grinnell, Sam Berman & Sons opened as a scrap recycling yard in 1923. Their mantra, "Dependable Service, Competitive Pricing" has served the business well. Now in its third generation of ownership, the scrapyard is thriving and shows promise of continuing for generations into the future.
Sam Berman, the founder of the family business, immigrated to the US from Russia in 1920. Sam and his wife, Rebecca, had four sons; Milton, Harry, Isadore, and James. All four served in the military during wartime; the three oldest in WWII and the youngest in Korea. While the sons were away during wartime, Sam ran the business alone with the help of a few employees.
When Milton and Harry returned from WWII, they settled in Jacksonville, Florida, and started Berman Bros., a scrap metal and iron business that continues operations today. They later added steel distribution and recently added a fabrication shop, Reuben Ironworks, to their umbrella of businesses.
Sam's third son, Isadore, returned to Grinnell after WWII and attended Grinnell College, where he majored in economics and history. He graduated with the class of 1949 and went on to Columbia University, where he obtained a Master's Degree in business. In 1951, he once again returned to Grinnell to join his father in Sam Berman & Sons.
The youngest of the four Berman brothers, James, joined the family business when he returned to Grinnell from Korea in 1952. James' work as a combat engineer in the Army, proved useful at the scrapyard, as he was able to utilize explosives to break down large cast iron pieces. James was a partner in the business until 1986.
Today, Isadore, at nearly 91 years of age, is fully active in the business his father started. He is a sharp business man and has a knack for facts and figures. His pride in the business his father founded is evident as he describes the mass and scale of machinery the yard utilizes in sorting, cutting, baling, and moving steel.
Richard Berman, Isadore's only son, worked summers at the scrapyard from the time he was 16. He joined the family business as a full time employee in 1983. Rich spent time at the scrapyard as he grew up, and recalls that he played in the nearby creeks, built forts, and shot errant pigeons.
The third generation Berman has come a long way from his days of "playing" at the scrapyard. He now spends time "…trying to stay globally aware of economic trends. Knowledge of this subject comes in handy when making sales decisions. Things that go on throughout the world such as iron ore production and values, strikes, currency values, growth percentages in developing countries as well as geo-political instability can have an effect on markets in the Midwest on various types of scrap." These insights aid Berman is his purchasing and sales decisions for the business.
Rich is now the general manager of the scrapyard, which employs 7 full-time employees. Of the seven employees, two serve primarily as truck drivers, and three others run the machinery to process and ship scrap, and also run machinery to unload inbound loads of scrap from local customers. Many of the employees also perform routine and preventative maintenance on the machinery, with one serving as the primary maintenance technician.
Management of production in relation to the workload can be a complicated process at a scrapyard. Berman & Sons handles large capacities of scrap, but sometimes has to reduce the amount of business coming in due to the number of employees or equipment shortages at a given time. Conversely, they may attempt to seek out additional scrap during slow periods to ensure they are able to maintain their current workforce.
When asked to define the success of the business, Rich stated "Success is earning enough to continue to operate and contribute to the growth of the business and our valuable workforce". He noted that their employees are a loyal group. Several of them have been with Sam Berman & Sons for many years, largely because of the competitive wages and benefits, but also the true family feel of the business. "It is again important to thank our dedicated employees who possess the motivation and responsibility to get the jobs done. For as time has gone by, I now mostly create the work, they actually do it."
The scrapyard office, while not modern and spotlessly clean, is nonetheless a place of gathering and friendship. Isadore and Rich welcome customers, salespeople, and employees to join in conversation. A piece of granite that once adorned a building at the college, serves as a countertop over which business is conducted and stories are shared.
The general mood and ambience of the office is one of camaraderie and acceptance. Sundance, the scrapyard dog, roams freely, as do two cats. Interesting artifacts and remnants of years past adorn the dusty walls of the office and pieces of family and business history are tucked away here and there in piles of papers. A candy vending machine, as well as a soda machine coated in layers of dust and grime, harken back to the "good old days" when people had more time to linger over a treat and conversation.
The scrapyard is located on seven acres east of Grinnell on 50th Street, 3/4 mile south of Highway 6. The business, by design, is situated along the Iowa Interstate Railroad and is the only rail shipper in Grinnell. Approximately half of the ferrous scrap steel from the scrapyard is shipped away by rail. The other half is sent out on semi-tractors with dump trailers. Shipping by rail requires coordination with the railroad for rail car placement according to sales and deliveries projected or in conjunction with scrap inventory on hand.
Most of the steel is sent on to mini mills (or electric arc furnaces) where it is formed into other steel products. Regional mini-mills include: Gerdau AmeriSteel in Wilton, Iowa, SSAB of Montpelier, IA, Nucor Steel of Norfolk, NE, and Sterling Steel in Illinois. Steel is also shipped to integrated mills in the Chicago region, such as Arcelor Mittal, or US Steel.
Scrap iron represents the bulk of the processing and handling at the yard. Scrap iron typically falls under two categories: prime and obsolete. Prime scrap is material generated from industrial production through processes such as stamping operations, laser cutting, sawing, and shearing of new steel products. These are higher grades of scrap known as busheling, clips, and number one bundles. Number one bundles are scrap that originate from industrial sources which are baled in thousand pound cubes.
Obsolete scrap is material consisting of "end of life" items such as pieces of agricultural equipment, automobiles, industrial equipment, heavy machinery, replaced parts, construction and demolition debris, bridges, rebar, and guard rails. Processed obsolete scrap is turned into marketable grades such as #1 and #2 heavy melt, and plate and structural.
Another area of focus for the scrapyard is foundry business. Foundry businesses are usually smaller consumers than steel mills and purchase grades of ferrous scrap which require more processing or special chemistry. Foundry grades are typically of higher value than mill grades. These higher grades of scrap include: #1 cast iron, foundry busheling, 2 ft. plate and structural. Some of these consumers include: Clow Valve (fire hydrants and valves) of Oskaloosa, John Deere of Waterloo, Gunite Corp (semi brake drums), of Rockford, IL, Griffin Wheel Corps (railroad wheels) of Keokuk, and Neenah Foundry (manhole covers and grates) of Neenah, WI.
In addition to the 17,000 tons of ferrous scrap Berman handles each year, they handle substantial amounts of non-ferrous materials such as aluminum, brass, copper, lead, batteries, and zinc. Berman include stainless steel under the category of non-ferrous as well.
Many non-ferrous items such as aluminum fall under a variety of grades. Aluminum grades include: cast, sheet, painted siding, MLC (mixed low copper clip), 356 alloy rims, 10/10 extrusions, turnings, bare aluminum extrusions, 6063 extrusions, 6061 clips, extrusions, and wheels. The aluminum consumers often use several different grades for their melting or processing purposes. Aluminum mills usually make specific alloy coils. Secondary aluminum smelters make a specific alloyed ingot.
Berman & Sons handles approximately 20 tons of aluminum scrap per month. The scrap is sorted, processed, boxed or baled, and prepared for shipment according to various customer specifications. The aluminum scrap is then shipped by van trailer from the dock in Grinnell to various aluminum consumers including: Nichols Aluminum of Davenport; Jupiter Aluminum of Hammond, IN; Aleris Industries of Wabash or Cold Water, MI; and Sapa Extrusions of Yankton, SD.
Additional business comes to the scrapyard in the form of recyclable scrap material from small customers. Customer service is a large factor in determining repeat business, and under Rich Berman's guidance, Berman & Sons excels. Customers from a five-county area including Poweshiek, Jasper, Tama, Iowa and Benton counties often bring in materials for payment. Berman & Sons value these smaller customers. Some of these customers are members of the agricultural community, contractors, electricians, or plumbers.
"We really appreciate the diverse industrial and commercial businesses in our area who generate and supply us with a steady volume of material and services. We also greatly appreciate the broad support of farmers and people of East Central Iowa who make a trip to our facility to offer their scrap for sale to us."
Rich points out that almost every person or small business generates some amount of recyclable material. Items such as lawn mowers, bicycles, and water heaters come into the scrapyard routinely, and the employees are adept at helping the customers through the process of weighing and unloading scrap and recyclable pieces.
Four roll-off trucks serve to collect scrap from industrial and commercial accounts off-site. The roll-off trucks and containers are also utilized in the hauling of construction and demolition debris, as well as commercial refuse to the land-fill and transfer station. "In the future we may expand the scope of our services. Of course this includes multiple uses for our roll-offs if we have a surplus available to include some residential construction projects such as shingle removal from roofing projects, estates and moving, house cleanings, etc. "
When asked about other ways in which the business might expand in the years to come, Rich responded "On some larger scales we may wish to expand into the demolition or removal of iron intensive structures and machines off site. We are looking forward to cutting up a 170,000 lb. piece of a machine at an industrial site in January. This requires some special torch cutting apparatus, a crane with an electromagnet and a couple of highly skilled workers. These are examples of some of our capabilities if the opportunity arises."
As the business has increased in volume and larger varieties of scrap, upgrades in equipment have been made to keep up with the growth. While the business has made improvements with equipment purchases over the course of many years, the business has seen its largest growth in equipment inventory in the past ten years.
From its origin and for just over a quarter of a century, the scrapyard was strictly manual in nature. In 1949, Berman & Sons obtained their first piece of machinery: a crane. The early days of manual labor contrast starkly with the modern day scrapyard; today the scrapyard is populated with many pieces of expensive and complicated equipment and machinery. The operation of these large-scale pieces of machinery enables the yard to process over 17,000 tons of ferrous scrap steel each year.
Berman & Sons purchased their first hydraulic scrap handler, a Daewoo 280 in 1998. Scrap handlers are basically excavators converted with longer booms and other features adapted for better handling of scrap materials.
In 2003, they purchased a Daewoo 300, which Rich says is the "smoothest operating and balanced machine" they have purchased to date. In 2007, a Case 330 excavator equipped with a LaBounty 2400 rotating shear was purchased, followed by a 2008 purchase of a Doosan 340, which features a permanently elevated cab for better viewing when loading railroad cars and large trucks.
As part of a $1M capital improvement in 2011, the business added a Sierra 750 shear/baler/logger, which tripled the capacity of scrap processing. In 2012, a Case 300 scrap handler with a hydraulically elevated cab was added. In 2014, a 2008 Al-Jon portable logger/baler was purchased.
Though the scrapyard utilizes many pieces of modern equipment, they still use 2 "primitives" from the 1950s: a Mosley baler, which is used for baling aluminum and radiators, and an Alligator shear with an electric motor, used for shearing aluminum.
This combination of old and new machinery signifies the history and progress of the nearly century old family business. Asked to reflect on the challenges and rewards of the business as a third generation owner, Rich stated: "It still isn't easy after all these years, but if any of us knew what Sam, Milton, Harry, Isadore, and James had to go through to prepare scrap, I would question if any of us today would want to be working at a scrapyard. Thank goodness for progress!"
---
Reprinted from the Grinnell Business Journal